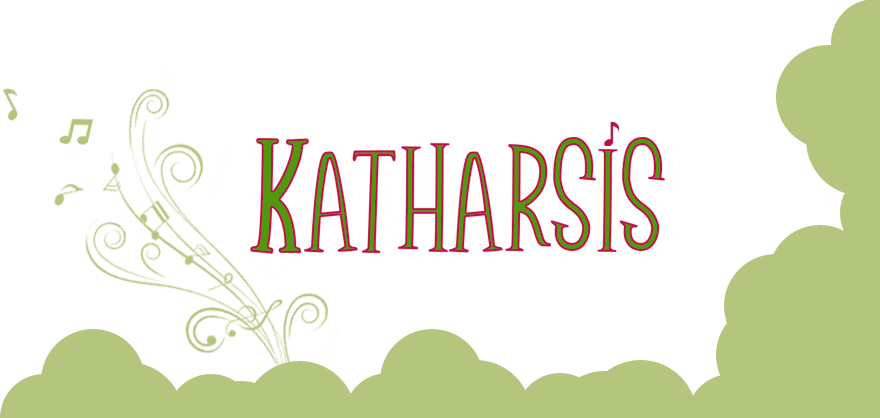 Katharsis
A downloadable game for Windows
WARNING! Katharsis Project is in Pre-Alpha phase! We count on your feedbacks to make the game better and continue its development.
Catharsis (from Greek κάθαρσις katharsis meaning"purification" or "cleansing") is the purification and purgation of emotions—particularly pity and fear—through art and music or any extreme change in emotion that results in renewal and restoration.
Katharsis is a sensible journey through the importance of expressing yourself and showing how music can have an important role to fill in people's lives. With characters that raise visibility to some of the most common psychological diseases and who portrays the diversity in our community, join this tender adventure that will prove you that your feelings matter and you should not be afraid to show them.
Four teenagers were living their lives normally in that morning: Yuki was playing cello in the park, as per usual. Bia was training drums with her brother's band in the garage. Tommy was playing classical music for his parents, very grudgingly. Johanna laughed, as if there was no problem in this world to put her mind into. For a matter of seconds, that morning didn't come to be like the usual ones.
In a reality above of human aknowledgement, chaos flourished. Energies danced with one another, looking for a balance that was now lost - when everything repelled, with the blast of an explosion.
Tiny shards of those energies solidified themselves and with the power and oddness of the impact, crossed their reality to collide with Yuki, Bia, Tommy and Johanna, allured by their moments of pure fragility. In the blink of an eye, the ambience around them was unfamiliar. Instruments in hands, these four humans with their music became the last hope of both worlds.

Features:
The game counts only with the first tutorial level that takes 10-15' to complete, if you're acquainted to puzzle games!
We're presenting 2 out of our beautifully made 4 characters that represent and include some minorities:

Johanna, a nordic girl who suffers from TDAH.
Tommy, who suffers Neurosis and OCT.

4 simple puzzles to challenge your mind through the tutorial.
A glimpse of our story and worldbuilding specially made for Katharsis.
All original music to carry your emotions through the gameplay.
Known Issues:
We have some camera issues. Hope it doesn't compromise your gameplay!
Jumping could get tricky! If you're having trouble with platforms, try taking some distance before jumping.
We don't support widescreen resolution as per now, so if your monitor is one of those, you might experience some problems with the interface.
The configurations menu is kind of incomplete, we're working on more options to make your gameplay better.
In Development:
Huge upgrade on our musical board at the end of the level!
Mysterious item to be found;
Final piece of the level narrative;
Full Controller Suport
Improvements in the Songs and UI sound effects!
Portuguese localization!
Fixes to lots of bugs;
...And coming soon: all new levels and two more characters for you to unravel the story! Yuki, an asian transexual boy who is fighting depression and Bia, a brazillian black girl that suffers from anxiety.
Hope you enjoy it,
Fantasy Crew.
Katharsis © is an Academic Project for PUC-SP delivered to you by Izadora Lima, Luciano Del Bianco and Gabriel Barbosa.
| | |
| --- | --- |
| Status | In development |
| Platforms | Windows |
| Rating | |
| Authors | Fantasy Crew, Izadora Lima |
| Genre | Puzzle |
| Made with | Unity, Maya |
| Tags | 3D, brazillian, diversity, Fantasy, Female Protagonist, guitar, Music, Narrative, Non violent, violin |
| Average session | A few minutes |
| Languages | English |
| Inputs | Keyboard |
Download
Click download now to get access to the following files:
Comments
Log in with itch.io to leave a comment.
Looking forward to more puzzles. And polish. :)

Oh my god!!! This is awesome, man! Thank you so much for all the feedbacks <3 We're trying really hard to solve the movimentation issues! We're all really glad you enjoyed it and really moved by the video.
Hey, thank you for your mail, just replied now. I'm glad you like the video. :) Can't wait to see more!
Eu joguei até o quarto puzzle, e não o finalizei.
Alguns Bugs e Feedbacks:
1. Jogo trava após clicar botão esquerdo pela segunda vez: Quando o tutorial pede para acionar botao esquerdo, eu acionei. Andei pelo cenário (em cima do quadrado branco), sai do quadrado, e cliquei botao esquerdo de novo (pq a personagem não estava mais segurando o violino). Jogo travou.
2. Após iluminar todos os quadrados, não houve nenhum feedback visual ou sonoro do surgimento da escada.
3. Menu de Pausa reconhece toque em botoes do menu (com botao esquerdo) e aciona instrumento. Percebi isso tocando no botao Resume.
4. O segundo puzzle me pareceu exigir demais, considerando que é o segundo puzzle do jogo. Isso por causa do tempo regressivo para iluminar todas as casas. O controle de câmera dificulta mais a tarefa de fazer todas em tempo.
5. Eu demorei muito pra destruir a pedra. Eu estava sempre tentando mirar na pedra que voltava o save (?, não entendi o objetivo dela, já que esse puzzle não me pareceu ter nada que necessitasse de um restart), sem sucesso, já que o personagem sempre mirava na árvore. QUando finalmente cheguei na borda do terreno e acionei a mira, ele mirou para a cosia vermelha do outro lado, que era uma pedra (e eu não tinha enxergado, até então). Acho que ela ser vermelha, como a maior parte do cenário, dificultou a visibilidade dela como um item importante e interagível.
Quarto puzzle: Desisti pela ~10a tentativa.
6. É difícil mirar com o garoto. Mesmo eu estando bem em frente a uma pedra do quarto puzzle, ele não mirou. Precisei mudar minha posição para ele conseguir mirar. Essa dificuldade e excesso de tentativas para conseguir ter sucesso (leva vááários segundos para conseguir fazer ele mirar) atrapalha bastante na resolução do quarto puzzle.
7. Você poderia poder escolher (ou o jogo fazer isso por default) de fazer o personagem não controlado ficar parado, ao invés de ficar seguindo o controlado. O quarto puzzle foi bem chatinho de resolver por causa disso. A garota seguia o garoto no momento de destruição das pedras, e ela ficava presa na frente de uma pedra, andando infinitamente, aí quando eu trocava de volta pra ela, ela automaticamente acabava o puzzle por estar em cima de uma casa já iluminada. .-.
8. Poderia ter totem de restart no inicio da parte 2 do quarto puzzle (o que tem pedras em cima de areas para iluminar), já que quando eu uso o totem no inicio do quarto puzzle, ele reconhece que eu completei a parte 1. ENtão, um totem na parte 2 evitaria que eu precisasse andar até a parte 1 para resetar, e após reset, ter que andar de volta pra parte 2. Update: Aí na segunda vez que eu reseto pela parte 1, percebo que tem um totem na parte 2. Mas ele está tão escuro e fora do campo de visão que não percebi antes.
9. O tempo de puzzle (iluminação) parece adequado para uma versão final do jogo. Neste estágio, com as dificuldades citadas, é extremamente difícil.
10. Não entendi o que faz aquela partitura, ao acionar o botão E com o garoto. É um flavor, ou ela tem uma função dentro do jogo?
Gostei da temática do jogo, de abordar personagens de minorias, com o teor psicológico ligado à música. Pelo que vejo da ambientação, eu imagino que lá pro final do jogo vocês utilizem o mesmo cenário, mas totalmente restaurado (com um rio naquelas valas fora da caverna? *-*)? Se for isso, é uma ideia muito legal mesmo pro cenário e vai ficar muito bonito! *-*
Keep up the good work! o/
Muito obrigada, Mafê!
Levamos todos os feedbacks em conta e estamos já trabalhando em alguns deles para deixar tudo melhor para os nossos usuários <3 Fico feliz que tenha aproveitado o jogo e espero que volte mais vezes com mais feedbacks proveitosos como estes!
Abraço!
Eu demorei muito pra passar o último puzzle, mas é porque sou muito lerdo. Demorei muito pra sacar o que acontecia, mas depois foi tranquilo kk
As músicas estão muito legais e a arte também <3
Só alguns problemas que eu pude apontar:
-Na hora de subir as escadas, eu buguei umas 3 vezes na quina.
-Depois de derrubar a árvore, eu tentei voltar para o outro lado e fui catapultado.
-Mirar nas pedras não funcionou muito bem, eu demorava muito até conseguir mirar.
Mas btw, o jogo está muito legal. Parabéns aos envolvidos <3
PS: Amo o logo do jogo
Olá, Urso Roxo!
Ficamos muito felizes com os feedacks. Já estamos trabalhando em alguns deles! Espero que voltem para ver todas as melhorias.
E nós também amamos nosso logo ;)